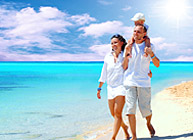 Property Details
Seabreeze Vacation Villas & Marina
Freeport ID: df03
Contact Information:
#2 Port of Call Drive
Freeport, 40136
Bahamas
Closest Airport:
Grand Bahama International Airport (FPO)

Resort Highlights
Nestled in the heart of Bahama Reef Country Club, overlooking the turquoise Bahamian waters is Sea Breeze Vacation Villas. This exclusive boutique resort boasts fully furnished and tastefully appointed two bedroom villas within a secure gated community that offers a private and peaceful setting with only a 3-minute walk to the secluded beach. The condos are comfortable, spacious, and come with all of the modern conveniences of home making it a great vacation home for couples or the entire family! Its a short, three minute walk to a large, flat, private, soft, white sand beach; ideal for swimming, sunning, snorkeling, or fishing, for bonefish on the beach or grouper and snapper off the rock jetty. For more adventure, try diving for lobster right off the very quiet, secluded beach. Rental fishing boats, with guide, fishing rods and bait, are available. Snorkel equipment and ocean kayaks are also available for rent.
Destination Highlights
Freeport is easily accessible and only 80 miles off the coast of Florida. Miles of beautiful beaches, amazing seafood and Bahamian culture await you in Freeport. Grand Bahama Island offers shallow clear waters, abundant game fishing and excellent weather throughout the year.
Unit Highlights
Fully furnished, attractively decorated, 2 bedroom, 2 bath, 900 sq. ft. air conditioned apartments, featuring full kitchen, granite countertops, dishwashers, stainless steel appliances, granite and marble floor tile. Fantastic view from any unit, either overlooking the ocean or the marina. Master bedroom features walk-in closet, Jacuzzi tub and queen bed. The living room has a comfortable reclining couch or chair from which to watch TV or a DVD. An iPod dock allows you to listen to your music and wifi means you can surf the web with your laptop. Sit on your private balcony and enjoy the spectacular view, with your morning coffee at sunrise or enjoy the stunning sunsets with an evening cocktail. Designed with tranquility and relaxation in mind. Enjoy one of our suites with all the amenities of home, in a romantic cozy setting. All rooms at Sea Breezes are non smoking