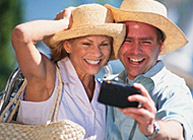 Privacy Policy
Privacy Policy
The following discloses our information gathering and dissemination practices for our Website.
Voluntary Data Collection
Our site has collects personal information through our newsletter sign-up, in which our member is requested to provide a name and e-mail address. The member's contact information is then used to contact the member when necessary. Users may opt-out of receiving mailings; see the choice/opt-out section below. Hopaway Holiday does not sell any e-mails or addresses gathered.
Update or Opt-Out
If you have provided personal information to us in the past and have recently moved please let us know. Our site also provides users the opportunity to opt-out of receiving communications from us at the point where we request information about the visitor.
This site gives users the following options for updating or removing their information from our database and to start or stop receive communications or services.
To stop receiving messages:
To update/change your contact information:
Data Security
This site has security measures in place to protect the loss, misuse and alteration of the information under our control. All IP addresses and personal information collected through surveys and online forms is securely stored off-line and not sold, traded or otherwise made available to any 'partners', outside agencies or third parties.
Trademarks, Copyrights and Restrictions
All content on this Website controlled by Hopaway Holiday, is protected by copyrights, trademarks, service marks, and/or other intellectual and/or creative property rights. The content on this Website is controlled by Hopaway Holiday is solely for personal, non-commercial use. Website content may not be copied, distributed, exploited, posted, reproduced, republished, transmitted, and/or uploaded in any way for commercial use without the prior written consent of Hopaway Holiday. Without written consent, your use of Website content controlled by Hopaway Holiday for any purpose other than personal, non-commercial use, is prohibited and violates copyrights, trademarks, service marks and/or other proprietary rights.
Linking to Other Sites
This site contains links to other sites. Hopaway Holiday is not responsible for the privacy practices or the content of such Websites. We encourage you to seek out the Privacy Statement of each site you visit before submitting any information of a personal nature.