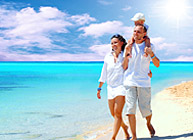 Property Details
Peppertree Atlantic Beach II
Atlantic Beach, NC ID: c942
Contact Information:
PO Box 1068
715 West Fort Macon Dr
Atlantic Beach, NC, 28512
Closest Airport:
New Bern, NC (EWN)
35.00 miles
Resort Highlights
Peppertree Atlantic Beach is an ideal resort for a beach vacation as it's close to restaurants and shops, yet while on the property you have the convenience of beachfront just steps away. If you prefer your swimming more on shore, you have your choice of indoor and outdoor swimming pools, along with a children's pool for the little ones. Get up a game of tennis, or have fun with the kids at the playground, and everyone can enjoy the salt air at mealtimes at the barbecue grill.
Destination Highlights
"Atlantic Beach is the oldest of five resort towns along the Bogue Banks on North Carolina's coast. Known as the "Crystal Coast," it's truly a great vacation spot. Walk down the sidewalk from your villa to the white, sandy beach, where you can rent a chair and an umbrella for the day. Then head into the surrounding communities for some great seafood. Whether you like to swim, bask in the sun, sail, or fish, Peppertree Atlantic Beach is the perfect location for your next vacation."
Unit Highlights
Spacious, air-conditioned 1-, 2- or 3-bedroom villas sleep 4 ,6, or 8, respectively. For ease and convenience, all villas feature a full kitchen equipped with a microwave, and some also include a dishwasher. Adding even more enjoyment to your stay, spend mornings sipping coffee or evenings sipping your favorite beverage on your private deck.