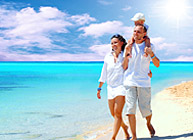 Property Details
Sea of Cortez Beach Club
San Carlos, Sonora ID: DP25
Contact Information:
Paseo Mar Bermejo
Parcela 7 Fracción 1
San Carlos, Sonora, 85506
Mexico
Closest Airport:
No airport information.

Resort Highlights
Find yourself in Mexican paradise at the Sea of Cortez Beach Club, located just steps from the ocean. Enjoy the rugged landscape with breathtaking desert and mountain views, and endless coastal sunshine. The resort features spacious suites with private patios or balconies, and full kitchen. Relax poolside or treat your family to a cookout in the barbecue area, and let the warm sun and sand of the Baja coast enhance your escape.
Destination Highlights
Located on the Sea of Cortez, the lovely Mexican resort community of San Carlos, Sonora, Mexico offers something for everyone. For water sports enthusiasts, there are beautiful sand beaches, spectacular diving and snorkeling, kayaking, and offshore fishing. San Carlos is only a 250 mile, 4-hour drive from Nogales, AZ on Mexico Highway 15, a four-lane divided highway. Numerous restaurants featuring seafood, Sonoran beef, Mexican dishes and American cuisine are located throughout the town. Prime real estate is available for sale.
Unit Highlights
Relax in the comfort of your accommodation featuring spacious bedrooms with a king size bed, and well-appointed bathrooms featuring a bath tub and shower. Enjoy the convenience of cooking and dining in while in the comfort of your own kitchen equipped with a full size refrigerator, exclusive purified water faucet, microwave, coffee maker, toaster and many other modern appliances. Each accommodation offers a private balcony/ patio with breathtaking ocean views, telephone, iron/ironing board, satellite TV, DVD/Blue Ray Player, electronic safe and air conditioning.