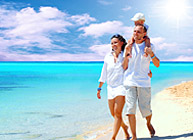 Property Details
The Tropical @ LHVC
Puerto Plata ID: C272
Contact Information:
Playa Cofresí No.1
Puerto Plata
Dominican Republic
Closest Airport:
Puerto Plata (POP)
19.00 miles
Resort Highlights
The Tropical features three-story buildings that combine an eclectic Mediterranean style along with the Caribbean-influenced roofs and cobblestone walkways making it a true tropical beachfront resort. The surrounding mountain ranges and the sparkling ocean are prominent views from every spacious guest rooms or Studios. The Tropical strives to create an elegant atmosphere paired with world-class personalized services to be enjoyed by your friends and family for a one-of-a-kind getaway experience!
Destination Highlights
On the northern shore of the Dominican Republic stands the enchanting city of Puerto Plata. This well-kept secret is steeped in European and New World history while rapidly becoming the destination of choice by vacationers throughout the world. The temperatures vary minimally boasting an average of low 80's, while the island itself is home to an abundance of fresh fruit, vegetables, and seafood providing temptations for any palate. The infectious rhythms of Caribbean music echo throughout the streets of the island while its beaches are home to everything from tranquil retreats to surfing hot spots. With its spectacular views, combining both sea and mountains, lush valleys, and inviting beaches, Puerto Plata has certainly become a jewel in the Atlantic and it is here you will find our Tropical Resort, the perfect accommodations for that vacation you have been dreaming of!
Unit Highlights
Each of the bright Tropical Rooms is filled with effortlessly chic décor, well-equipped, top-notch entertainment systems, and two queen-sized beds or one king-size bed. Studio units include a king-size bed and an additional sitting area amongst other amenities. Each unit is equipped with cable TV, air conditioning, clock radio, coffee maker, hairdryer, iron and ironing board, and safety deposit box, and all units feature a private balcony that overlooks either the pool or the beach. Imagine enjoying your morning coffee without having to leave your room, or late afternoon drink, while relaxing on your balcony and enjoying the scenery. You may never want to leave! Room occupancies include: Tropical Rooms 4 people * Estudios 4 people No pets are allowed at the resort.