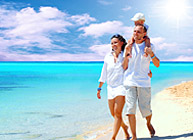 Property Details
Vacation Villas
Titusville, FL ID: 5043
Contact Information:
3795 Vacation Villas Lane
Titusville, FL, 32780
Closest Airport:
Orlando - International Airport, FL (MCO)
35.00 miles
Amenities
Resort Highlights
Vacation Villas is a great place to stay when you're coming to 'Space Country.'It's a small and cozy three-unit property with a delightful pool for you and the kids to splash in. Definitely family-oriented, there's a playground right on the premises. The beach is a short fifteen minute drive away, for more relaxing fun-in-the-Florida-sun. If you want a quiet villa vacation without any disturbing noise from neighbors or highway traffic, this is your spot.
Destination Highlights
Nicknamed 'Space City'for its proximity to the Kennedy Space Center, Titusville offers a unique slice of American history. Come to the U.S. Space Walk of Fame & Museum, dedicated to all astronauts and behind-the-scene employees, it's right on the riverfront, and features monuments, flight suits, memorabilia, and oral histories of space workers. If war aircraft is your passion, don't miss the TICO Warbird Air Show, held in Titusville every March. For theater buffs, Titusville Playhouse offers excellent drama, comedy, and musical performance; Emma's Attic produces experimental plays.
Unit Highlights
The perfect word to describe the three units is 'comfy.'Cooking's easy with the fully-equipped kitchen, including microwave and dishwasher. Central air-conditioning keeps you fresh and cool, silently. Carpet feels good on bare feet, whether they're tiny or grown-up. Studios sleep four, and one-bedrooms sleep up to six. Every night, when you come home after a busy day of sightseeing or swimming, you'll be glad you're staying at Vacation Villas.