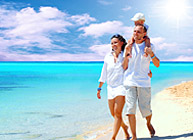 Property Details
Ridge Top - Shawnee
Shawnee-On-Delaware, PA ID: 2611
Contact Information:
P.O. Box 93
5255 Buttermilk Falls Road
Shawnee-On-Delaware, PA, 18356
Closest Airport:
Allentown, PA (ABE)
40.00 miles
Amenities
On-site:
Game Room
Indoor Swimming Pool
Swimming Pool

Off-site:
Fitness Center
Hot Tub
Sauna

Resort Highlights
The four-season, 2,200-acre resort is nestled along the scenic Delaware River in the beautiful Poconos, where the whole family can enjoy a slew of indoor and outdoor recreational activities, the resort offers daily scheduled events and seasonal trips. For indoor water fun, take a dip in the pool and relax in the hot tub or sauna. Lockers are available for your convenience. For fun in the sun, start with a rafting or fishing trip on the pond, and then head to the courts for tennis. Try your swing at the 27-hole golf course. Discounts are available to Shawnee-affiliated locations.
Destination Highlights
The Poconos Mountains region guarantees perennial fun for all types of vacationers. It offers 2,400-sq. miles of breathtaking natural beauty: 170 miles of winding rivers, over 163 miles of ski trails, and 261 miles of land for hiking or biking. In the winter, snow-covered slopes are ideal for a day of skiing or snowboarding. While in the summer, the hills and rivers are great for a hike and swim. And, you can even embark on an adventure, white water rafting on the Delaware River, and watch eagles soar in the sky. There are plenty of cultural tours, art exhibitions and restaurants to satisfy everyone.
Unit Highlights
After hitting the slopes in the winter or returning from a hike in the summer, kick off your shoes and unwind with the family in the comfort of the perfect nature getaway. Instead of dining out, stay in and cook up fabulous feel-good fare, or melt marshmallows over the fireplace for all to enjoy any time of the year. Air-conditioned and carpeted units are available in various sizes including the standard two-bedroom that sleeps eight guests and offers privacy for six.