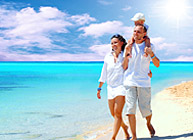 Property Details
Green Turtle @ Las Palmas
Guanacaste, Costa Rica ID: C516
Contact Information:
URBANIZACION PLAYA DE LAS
PALMAS
Guanacaste, Costa Rica
Costa Rica
Closest Airport:
No airport information.

Resort Highlights
Located in the Pacific, in the northern region of Guanacaste, Coco is a cozy village with lovely beachfront shops and a quaint and fun nightlife. The Resort offers different types of units and all have access to the beach club "Cafe de Playa", just a few minutes away. Costa Rica is known as an ecological destination with lots of activities such as surfing, canopying, rafting, kayaking, fishing and visiting the volcano site. The Resort includes fully furnished apartments, with 2 bedrooms, dining room, living room, TV, hair dryer, safe, air conditioning and partial kitchen. 2 bedroom units Max 6/Pri 4 have queen size bed, two single beds, double sofa bed and 2 bathrooms. The Resort includes a swimming pool, barbecue area and laundry service. Maid service is provided once a week. Additional service is available for US$25. In case of late arrival, please contact the resort. Resort Services: Car Rental, Jacuzzi / hot tub, Medical Center, Safe, Lounge, Restaurant: nearby.
Destination Highlights
Guanacaste, in the North Pacific of Costa Rica, is the second largest province in the country, but the least densely populated. It is bordered on the north by Nicaragua, on the east by the province of Alajuela, on the south by the province of Puntarenas and on the west by the magnificent Pacific Ocean. The capital is the city of Liberia and has an international airport located in the heart of the province. Its geography is full of vast savannas, which only rises where the volcanic range of Guanacaste is found as well as where some mountain belts in the highlands in the Nicoya Peninsula are.
Unit Highlights
The resort is comprised of condominium type units with two bedrooms, living room, cable TV, air conditioning, safe and kitchen. 2 bedroom units OCC: Max 6/Pri 4 have 1 queen size bed, 2 single beds, 1 double sofa bed and two bathrooms. In the center of the condo is a garden, community swimming pool and a laundry area